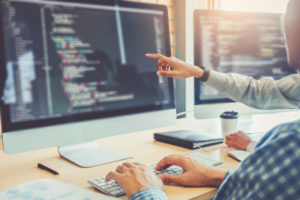 In this environment it's hard to know what tomorrow will bring. If you watch the news, all you'll see is a lack of hospital beds and overwhelming patient volumes. Meanwhile, hospitals and clinics around the country are laying off staff because elective and non-emergent procedures have been cancelled to clear the decks for COVID patients. To add to the complexity, many offshore coding vendors are unable to service their US based providers as a result of mandatory lock downs in India and the Philippines. Generally, they are not setup to work from home due to lack of equipment, security or Wi-Fi. Yesterday, one healthcare publication had a headline about building temporary hospitals while the story below talked about a large network furloughing hundreds of employees. This current environment is placing unneeded financial stress on our healthcare facilities, and when volumes do return it's more important than ever that bills get dropped in a timely manner. While every day may seem like pandemonium, one thing is for certain: whether it's COVID-19 related patients or pent up demand from cancelled procedures, you should be planning for a sudden and quick surge in patient volumes. Here are a few ways to ensure that you'll have the resources available when that time comes.
Overtime: One common way to deal with increases in volume is to ask existing staff to work more hours in the form of overtime. The benefits of this model are that they are already trained, they have EMR access, and are familiar with your systems. While the fully burdened wage rate is generally cheaper than a vendor or contractor, some of the negatives associated with this model include reliability of staff's desire for overtime, capacity limitations, or on leave due to sickness or family time and unable to increase workload.
Vendors: Working with a vendor as a backstop or extension of your team in the event of a surge is a reliable solution. Relying on a coding vendor who can manage part of your day to day coding needs or fluctuations is a common practice. Many facilities will staff to 80% and have a vendor manage the remaining 20%. The benefit to this is that you have a much larger pool to draw upon if there are large fluctuations in volumes. If volumes dip below normal, the vendor is generally the one who absorbs the decrease depending upon the structure of the contract. This also gives you backup for vacations, FMLA, terminations and any other staffing variances. The downsides of working with a vendor are that they may cost more than a W-2 employee even when paying overtime and they are not part of your team.
Per Diem: The third way to plan for a surge is to create a per diem pool of employees. These contractors may comprise of people who used to work for your facility, may be retired, or work as independent contractors. The benefit to this model is that you are not relying on your staff to work overtime, and you don't have to enter into a contract as you would have to with a vendor. They may be less expensive than a vendor. On downside, you cannot rely on them because you don't know if they will be available, they have limited capacity, they are rarely insured, and you may have to audit their work.
In sum, there are many ways you can prepare for a surge in patient volumes. We do not know when volumes will return or what it will look like, but you should have a plan in place in the event they are greater than what you normally manage. Based upon what we have seen in the areas impacted by the virus, the patient volumes could be well beyond what you already have capacity for. Make sure you have a plan! Please stay safe and healthy.