As value-based healthcare models continue to grow, the collection and documentation of social determinants of health data has become a key factor in improving patient care and outcomes. As HIM and Coding Professionals, our role in understanding, collecting and appropriately reporting social determinants of health is more important than ever.
What are social determinants of health?
Social determinants of health (SDOH) are the conditions in the environments where people are born, live, learn, work, play, worship, and age that affect a wide range of health, functioning, and quality-of-life outcomes and risks. Positive conditions are often associated with improved outcomes and reduced cost, while negative conditions have been shown to negatively affect outcomes.
The Healthy People initiative, released by the U.S. Department of Health and Human Services, has identified five key areas of social determinants of health (SDOH). Each of these five determinant areas reflect several key issues that make up the underlying factors in the arena of SDOH.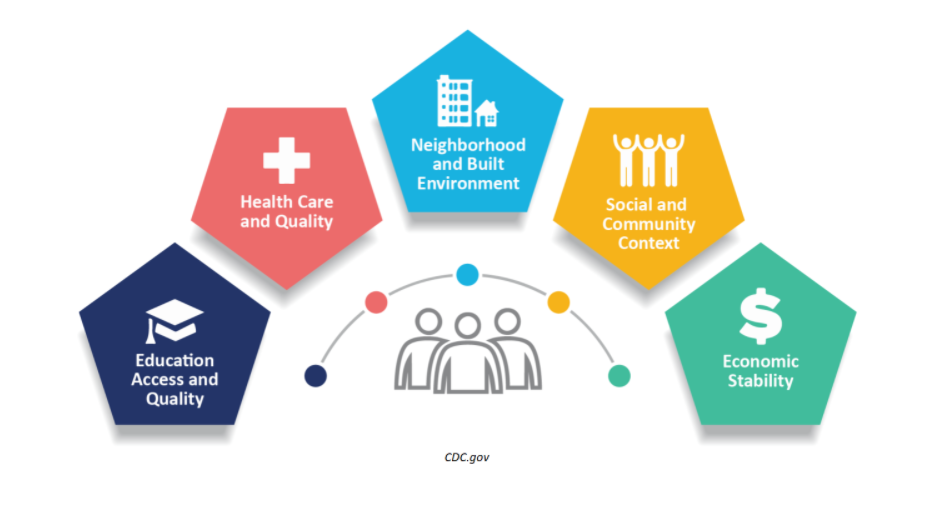 Education Access and Quality
Early childhood education and development

Language and literacy

Enrollment in higher education

High school graduation
Health Care and Quality
Access to health care

Access to primary care

Health literacy
Neighborhood and Built Environment
Crime and violence

Quality of housing

Access to foods that support health eating patterns

Environmental conditions
Social and Community Context
Social cohesion

Civic participation

Discrimination

Incarceration
Economic Stability
Food insecurity

Housing instability

Employment

Poverty
Why are social determinants of health important?
Addressing SDOH positively affects both the patient and the healthcare system by improving patient outcomes and reducing unnecessary expenditures such as hospital readmission, length of stay, and use of post-acute care. Addressing SDOH is also a primary approach to achieving health equity.

Social determinants of health such as poverty, unequal access to health care, lack of education, stigma, and racism are underlying, contributing factors of health inequities. Data related to patient's social needs is crucial in efforts to improve the health of patients and communities.
Social determinants of health, official guidance:
ICD-10-CM Official Guidelines for Coding and Reporting FY 2021 I.B.14 states:

This means that any member of a patient's care team can collect SDOH data during an encounter. This includes providers, social workers, case managers and nurses. SDOH data can be collected at intake through health risk assessments, screening tools, patient-provider interaction as well as self-reporting.
The role of the Coding Professional:
Coding professionals are responsible for reviewing the patient's medical record to identify SDOH and assign the appropriate ICD-10-CM code(s). This documentation can be found throughout the medical record, including social work notes, provider documentation, nursing documentation and screening tools.
Coding professionals should be aware of and begin utilizing the ICD-10-CM codes included in categories Z55-Z65, listed below:
| | | |
| --- | --- | --- |
| ICD-10 | Description | Number of Sub-Codes |
| Z55 | Problems related to education and literacy | 7 |
| Z56 | Problems related to employment and unemployment | 12 |
| Z57 | Occupational exposure to risk factors | 12 |
| Z59 | Problems related to housing and economic circumstances | 10 |
| Z60 | Problems related to social environment | 7 |
| Z62 | Problems related to upbringing | 24 |
| Z63 | Other problems related to primary support group, including family circumstances | 14 |
| Z64 | Problems related to certain psychosocial circumstances | 3 |
| Z65 | Problems related to other psychosocial circumstances | 8 |
The table below was released by AHA to identify Problems/Risk Factors Included in each ICD-10-CM Code Category: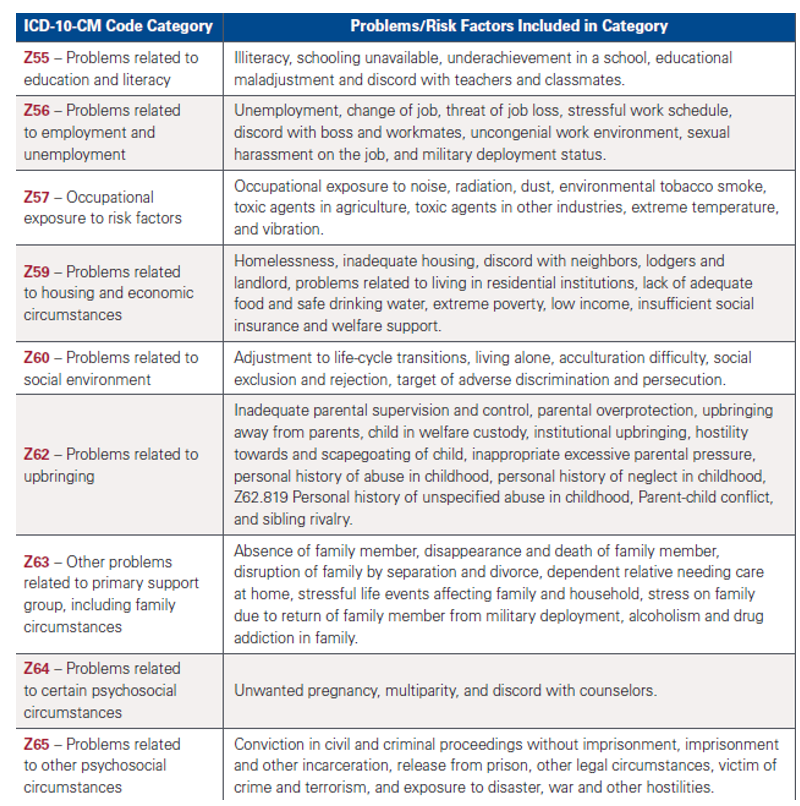 Additional Information
Additional information regarding Social Determinants of Health can be found below.