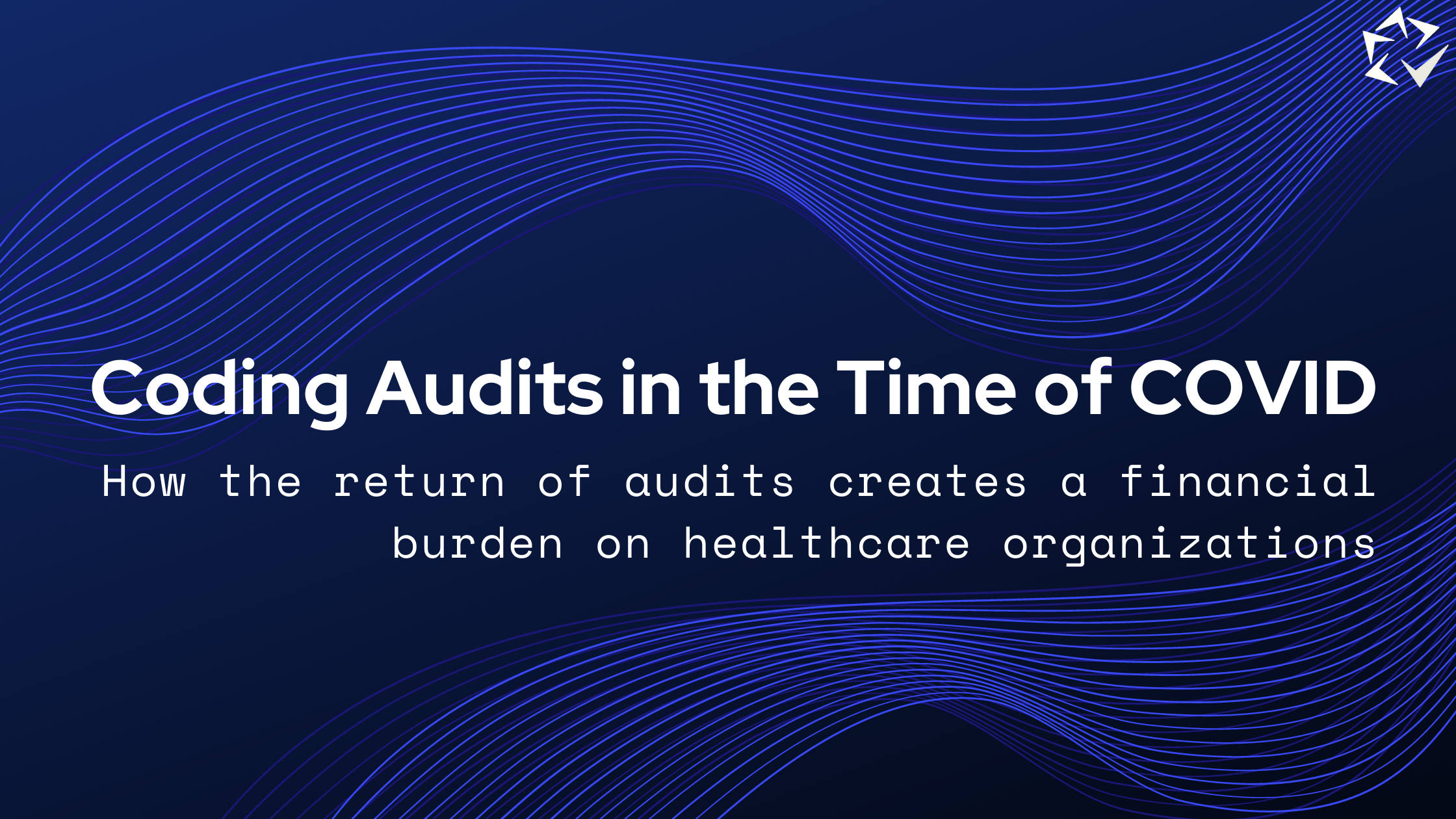 COVID-19 Related Coding Audits
How Audits in the time of COVID are effecting healthcare institutions.
In healthcare, audits, no matter how unpleasant they are, come with the territory. However, with the advent of the COVID-19 outbreak, audits have taken on a whole new level of dreadfulness. Read on to explore subjects related to the combination of Medicare's medical review/audit process and the COVID-19 public health emergency. Topics include the impact of Medicare resuming medical reviews, errors resulting from the improper use of the CS modifier and some things you can consider when trying to overcome them both.
CMS' Resumption of Medical Reviews
With the designation of COVID-19 as a pandemic and the declaration of a public health emergency came a pause in Medicare's medical review activities. Suspension of medical reviews was intended to allow healthcare entities some breathing room while they figured out how to deal with the myriad of new realities they were dealing with. However, in early August, despite extension of the PHE, Medicare resumed pre and post payment reviews/audits by both Medicare Administrative Contractors (MACs) and Recovery Audit Contractors (RACs).
The return of audits creates a two-fold financial burden on healthcare organizations. First, when dealing with medical reviews, providers are faced with channeling resources, already stretched thin by mounting a response to COVID-19, into reviewing, responding to and appealing audit results. Second, many audits (e.g., RAC audits) take back previous payments and retain the money while the provider files an appeal outlining why they deserve to have the money returned.
A healthcare organization with substantial appeals can be left to operate on a significantly diminished budget while trying to cope with the increasing financial burden incurred by managing the audit process. These circumstances leave organizations wondering how they are going to provide quality patient care for a disease they don't fully understand how to treat while they ride out the appeals process in the hopes of recouping some of their lost reimbursement.
CS modifier
An example of an area of coding related to COVID-19 which could be a future target for audits is the use of modifier CS. This modifier is only approved for use with CPT evaluation and management (E/M) codes. Originally this modifier was intended to identify services related to the 2010 oil spill in the Gulf of Mexico.
CMS has pulled this modifier out of moth balls for use in identifying services related to the COVID-19 PHE. Reimbursement made to many providers was calculated on the basis of this modifier prior to implementation of pre-payment edits that search for incorrect application of the modifier. If the CS modifier was applied improperly and appended to CPT codes for non E/M procedures, before the edits were in place, providers may have received 100 percent payment from Medicare for those ineligible procedures rather than the standard 80 percent.
Now that the edit is in place, improper payments are far less likely; but what is to be done with the previous claims that were billed in error? This situation begs several questions in regard to how these errors will be accounted for, such as; Who will be tasked with untangling the claims and determine which ones were overpaid? The MACs? The provider? Will this be a new area of focus for RAC audits? And, ultimately, when overpayments are identified, how will the provider explain to the patient that they are now on the hook for 20 percent of the cost of procedures or services for which they believed they had no financial responsibility?
Regardless of the answers to these questions, correcting the errors will be nothing short of costly, time consuming and frustrating.
Mitigation strategies
There are many practices that can be put into place to mitigate the fallout related to audits, whether they are related to COVID-19 or something else. In this article we advocate for investment in documentation related education for coders and providers. Coders need to know when documentation in the medical record is insufficient to support consummate coding and providers need to be educated in documentation compliance practices. Comprehensiveness and clarity is especially important in the documentation that supports medical necessity and explains a provider's reasons for their clinical decisions.
Ultimately, coding can only be as accurate as the documentation available in the health record, so a well-documented encounter is the foundation of optimal reimbursement and a powerful weapon in a healthcare organization's arsenal when it comes time to defend themselves against an audit.
So, whether you are figuring out how to best contend with one of Medicare's medical reviews, still struggling to correctly code all things COVID-19 related, or sailing peacefully along the river of reimbursement, take time to protect the dollars you have and those your expect to earn in the future from audit blowback by ensuring your coders and providers are well educated in documentation compliance.
For more commentary on audits in the time of COVID, listen to ICD10Monitor's podcast "Auditors back with a vengeance" here.
For resources and assistance with coding audits, visit MRA's auditing solutions page here.