By Marianne Loeffler, COC, CPC, CPC-I, CRCR, MRA Charge Audit Validator
Infusions & Injections are confusing – even on a good day. Facilities often leave money on the table – and a lot of it – simply because knowledge and resources may be limited. This article will briefly discuss the key elements to be aware of when reviewing documentation to accurately code injections and infusions.
Let's start with the hierarchy: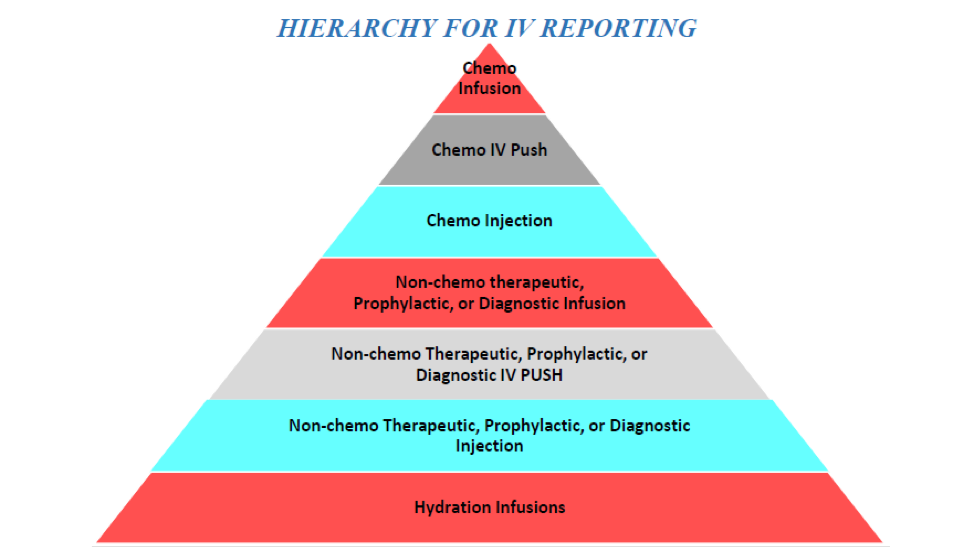 CPT Coding Guidelines state that this hierarchy is utilized per encounter. An encounter can be one or more days and starts when a patient presents to a facility for treatment and/or testing and ends when a patient is discharged. This makes charging for infusions and injections tricky because the entire medical record must be reviewed for the drugs given, how they were administered, and where they were administered.
Once a list of drugs is compiled that includes the time, method of administration, and location, carve-out any drugs that were given during a procedure. Infusions and injections are considered included therefore, they cannot be charged separately. Next, check the hierarchy to determine which type of service is the highest and was provided first. This will be the initial administration charge. Everything else will be "additional."
Let's review the sample medication table below: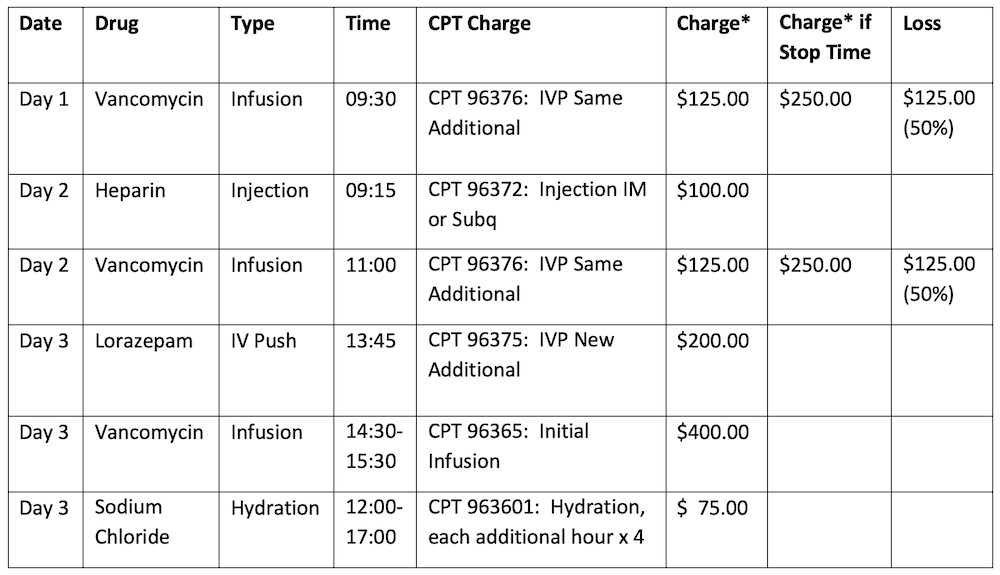 Day 1: Vancomycin was infused at 09:30, but there is no stop time. Without a documented stop time the infusion is downgraded to an IV Push. The charge is for CPT 96376, IV Push, additional same drug.
Day 2: Heparin was injected at 09:15. The charge is for CPT 96372, Injection, IM or SubQ.
Day 2: Vancomycin was infused at 11:00, but there is no stop time. This infusion is downgraded to an IV Push. The charge is for CPT 96376, IV Push, additional same drug.
Day 3: Lorazepam was given via IV Push at 13:45. The charge is for CPT 96375, IV Push, an additional new drug.
Day 3: Vancomycin was infused from 14:30-15:30. This is the initial administration charge since there is a start and stop time and the total infusion time is greater than 15 minutes. The charge is for CPT 96365, Infusion, initial, up to one hour.
Day 3: Sodium chloride is infused from 12:00-17:00. Vancomycin was infused during that time and must be subtracted from the hydration time. The charge is for CPT 96361, Hydration, each additional hour x4.
Even though the Vancomycin was given on Day 3, it is the initial charge due to the hierarchy, and because there is a start and stop time documenting the infusion time. Other Vancomycin infusions cannot be charged as infusions since a stop time was not documented.
This is an example of how gross charges and reimbursement can be lost due to missing stop times. Typically, this loss can be up to 50% on medication administration charges, just from documentation deficiencies with stop times.
When educating clinicians and/or providers on key areas that are necessary for complete and accurate documentation of medications; the following list is essential:
Physician Order

Medical Necessity

Route of administration

Site of administration

Start and Stop time for each substance infused

Name of the substance being administered
Important things to remember when coding for medication administration:
Hydration administration cannot be charged during concurrent drug administration or just to keep a line open

There can only be one initial administration charge, all others are additional. Exception: two separate IV sites running two separate drugs

Start AND stop times must be documented in the medical record to charge for infusion administration

Carve-out infusions & injections given in the perioperative setting or during other procedures (e.g. hemodialysis)

Infusions must be greater than 15 minutes to charge for infusion administration. An infusion of 15 minutes or less is an IV Push
The key takeaways to avoid potential lost revenue from medication administration are to ensure accurate and complete documentation of all medication services. Also, ensure coding or charging staff have been educated on the rules and guidance for coding in this area. Finally, ongoing internal and/or external compliance monitoring. Routine chart audits and spot checks with a focus on medication services can help reduce leakage opportunities and possibly recover underpayments.
*Charges listed are examples only. The prices your organization sets for the administration of infusions & injections may vary as well as the loss due to downgrades.