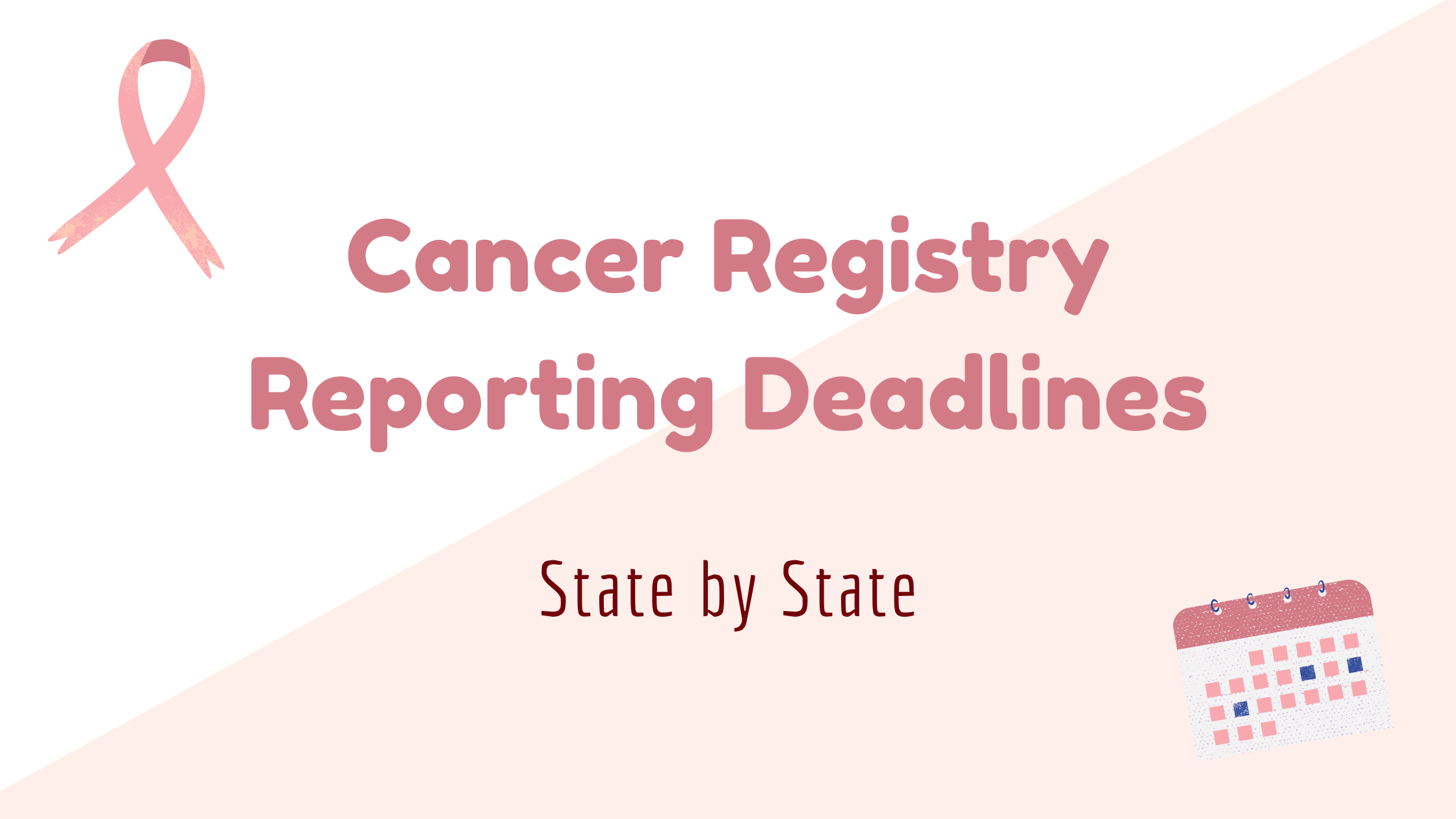 When are your Cancer Registry Reporting Deadlines?
The job of a cancer registrar is to collect and report data of cancer patients — capturing a full summary of the patient journey, from genealogical history to test results and treatment. This data is stored in hospital and healthcare facility registries and then reported to the central or state cancer registry as required by law. Although reporting requirements in each state differ, it is important that all cases are reported in a timely manner. Some cancer registry reporting deadlines have remained constant while other have changed in the past few months.
For most states, a timely manner is defined as reporting cases within 6 months of first encounter, diagnosis, or start of treatment. This includes Maine, New Hampshire, Connecticut, New York, West Virginia, Ohio, Georgia, Wisconsin, Illinois, Arkansas, Utah, North Dakota, Montana, Idaho, Alabama, Nevada, Washington, Tennessee and more. Some states, like Colorado, have a 6 month deadline, but consider reports submitted within 8 months to be "timely". Illinois has the deadline of 6 months after diagnosis or 4 months after first contact with the patient, whichever comes first.
Other states have set differentiated standards. For example, Minnesota records are due within 15 working days of the date the patient's record in the cancer registry was complete or from date of diagnosis. Additionally, Rhode Island reportable cases are due within 30-45 days from the date of a case first seen by the provider.
Select states have set unique new guidelines due to the unprecedented circumstances of COVID-19, for example:
The Massachusetts Cancer Registry decided to extend the submission deadline for all reporting facilities. Please see below the new deadlines:
100% 2019 cases = December 2020 (6 months of extension)
50% 2020 cases = April 2021 (4 months of extension)
100% 2020 cases = September 2021 (3 months of extension)
For more information, see the CDC's information on the national program of cancer registries here.
Find information about cancer registry outsourcing here.